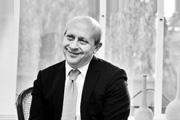 José Ignacio Wert, Minister of Education, Culture, and Sports of
Spain, receiving our interview
China Education Expo 2013 opens in Beijing yesterday. As the guest country of honor, Spain has long been inferior to other European countries, such as UK, France and Germany, in appealing to international students. However, "the condition is gradually transforming", said by José Ignacio Wert, Minister of Education, Culture, and Sports of Spain, interviewed by Beijing Youth Daily at the Spanish embassy in China, "as the gate to Latin America, there are more and more students choosing to study in Spain."
Beijing Youth: What kinds of agreements did you sign with Chinese cultural and educational departments this time you come to China?
Wert: During the two days in Beijing, I've visited to some Chinese institutions, including the High School Affiliated to Beijing Normal University and Peking University, etc. Besides, I've met with Chinese Minister of Education and Minister of Culture. During the meeting with Minister of Education, we signed an agreement about Real Madrid. According to it, the parties we carry out cooperation in physical education, for which the Real Madrid Football Club will fully support Chinese football development, by putting high quality football courses into Chinese schools. This project will initially be implemented in Shanghai, and then expand to other provinces.
Beijing Youth: Will there be any new policies in visa service specific to Chinese students in the future?
Wert: In the coming future, we will simplify the process of visa issuing and shorten the time of qualification verification. For Chinese students, we wish to better understand their needs.
Beijing Youth: Compared to UK, Germany and France, there are far less Chinese students studying in Spain. Is it due to Spanish insufficiency of education globalization?
Wert: Currently, there are 75,000 foreign students in Spain, in which 6,000 Chinese students. These Chinese students generally pursue long-term courses. So, according to student numbers of pursuing long-term courses, Chinese students account for 12% of international students, which account for the most in non-EU countries.
First, we have to admit that compared to those countries, Spanish universities' degree of globalization is not that high. But there is new progress now. Spain is a gate to Latin American countries, that there are 500 million people speaking Spanish in the world. At the meantime, the trade between China and Latin America is very close. So, due to the significance of language, there are more and more Chinese students being appealed to come to study in Spain. For these Chinese students, most of them choose majors such as Tourism, International Business and Trade, etc.
Beijing Youth: What is the difference in education system between Spain and China? There are students complaining that it is difficult to study in Spain, especially in undergraduate program.
Wert: First I need to say that Chinese Gaokao scores are accepted in Spain, which means that Chinese students could apply for Spanish universities with their Gaokao scores, no need to take other examinations. For Chinese students, language level is a decisive factor for their learning ability. To help students overcome such problems, Spanish universities prepared zero-basis language learning courses. There is no difference with other European countries in graduation difficulty.